BASANDERE 2021
Pronounced "bashandere"
"the wild lady" in basque mythology A wine meant to be drunk young. Freshness of the fruit, ripe apple fragrance, light taste with a balanced sweetness and soft, plentiful bubbles that tickle the palate. Serve as an aperitif or with cheese and desserts.
Blending of 12 local apple varieties, selected for their maturity. (Mamula, Eztika, Eri sagarra, Ania, Jinkoa, Gehesia, Gorria, Errezila, Koko xuria, Bordelesa)
Cider making :
Pressed directly, varieties separated, cleared then fermented in stainless steel vats for about 3 months. Indigenous yeast cultures used exclusively. Carbonation occurs naturally in the bottles for 2 months (the fermentation finishes in the bottles without adding liquid sugar or yeast)
Tasting :
Drink chilled (about 7°C) Store the bottles standing away from light at a temperature below 16°C. Store for 2 to 3 years. Every bottle is dated.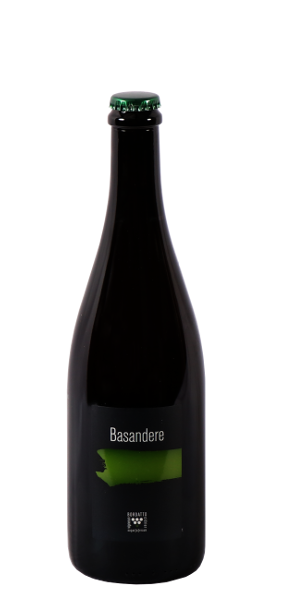 Medium-dry cider, pure juice 75 cl 6.5% alcohol vol
Pressurized bottles