BASAJAUN 2021
Pronounced "bashadioun"
"the wild man" or "he devil" in basque mythology Dried fruit aroma, some pear-apple fragrance. The long finish is slightly bitter and is quite refreshing. It goes well with cold meats (chorizo and ham), as an aperitif or with some hazel nuts, walnuts or chestnut. Perfect to quench the thirst of a hot afternoon.
Blending of 15 local varieties of apples, selected according to ripeness (ondo motxa, eri sagarra, anisa, gordin xuri, minxuri, azau sagarra, eztirotxia, geza xuria, mandoburua, patzulua)
Cider making :
Pressed directly, varieties separated, cleared then fermented in stainless steel vats for about 4 months. Indigenous yeast cultures used exclusively. Lees stirred by hand. Carbonation occurs naturally in the bottles for 2 months (the fermentation finishes in the bottles without adding liquid sugar or yeast)
Tasting :
Drink chilled (about 7°C) Store the bottles standing away from light at a temperature below 16°C. Store for 2 to 3 years. Every bottle is dated.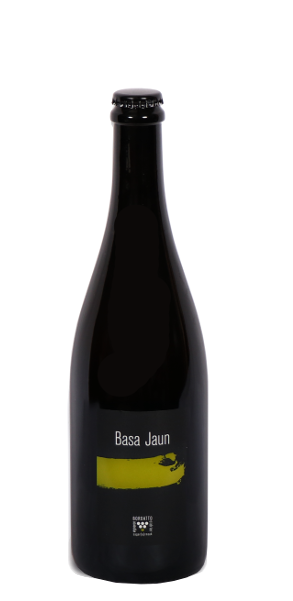 dry cider, pure juice 75 cl 7% alcohol vol
Pressurized bottles